Max Planck Society will host OpenCon 2017 in Berlin
3-day programme from November 11-13 at the Harnack House
Max Planck Society will be hosting the OpenCon 2017 organized by SPARC and the Right to Research Coalition. About 200 international participants around the globe will come together on November 11-13 at the Society's Conference Center in Berlin, Germany, the Harnack House, to promote Open Access, Open Data, and Open Educational Ressources.
OpenCon, the platform for the next generation to learn about Open Access, Open Education, and Open Data, brings together the most engaged students and early career academic professionals from all over the world. Attendance at OpenCon is by application only, and the majority of past participants received travel scholarships.
OpenCon 2017's three-day programme will begin with two days of keynotes, panels, and interactive workshops. OpenCon places an emphasis on highlighting diverse, early career voices, while complementing them with leading experts, such as Jimmy Wales, founder of Wikipedia, and Julia Reda, Member of the European Parliament, who attended prior OpenCons.
The third day will feature an all-day session where participants have the opportunity to craft new campaigns, lay the foundations for new resources, and form collaborations that will continue long after the November conference is over.
Application to attend OpenCon 2017 in Berlin, Germany will open on June 27. For more information about the conference and to sign up for updates, please visit the OpenCon website.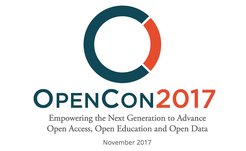 About the OpenCon confernce series
In 2013, the Max Planck Society in partnership with SPARC organized the first Open Access conference dedicated to early career researchers in the run-up to the "Berlin 11" Open Access conference. That conference turned out to be the initial spark for OpenCon.

Organized by the Right to Research Coalition and SPARC, OpenCon 2017 builds on the success of the first three OpenCon conferences, which collectively convened approximately 500 participants from 80 countries. In addition, OpenCon's unique structure has supported 70 satellite events, enabling over 4,100 attendees across 32 countries to participate in an in-person OpenCon event. Throughout the year, hundreds of these individuals remain engaged through monthly community calls, regular webcasts, and a very active community discussion list.
Since initiating the "Berlin Declaration on Open Access to Knowledge in the Sciences and Humanities" in 2003 the Max Planck Society is pursuing a broad and comprehensive Open Access agenda. The Max Planck Society is committed to persistently support Open Access on all levels. In particular, it is crucial to foster the engagement of the next generation of scholars because students and early career researchers face challenges from a scholarly publishing in transition. Therefore the Max Planck Society is proud to host OpenCon 2017 at the Harnack House, the society's conference center and the place of birth of the "Berlin Declaration".