Impressions from OpenCon 2017
Eary Career Researchers from Max Planck Institutes particiapted in OpenCon 2017
Max Planck Society hosted OpenCon 2017, organized by SPARC and the Right to Research Coalition. About 200 international participants around the globe came together on November 11-13 at the Harnack House in Berlin to promote Open Access, Open Data, and Open Educational Ressources.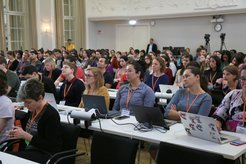 Here are the personal views of some OpenCon 2017 participants affiliated with the Max Planck Society.
Amie Fairs (Max Planck Institute for Psycholinguistics)
Why do I like OpenCon? OpenCon is a fantastic conference to go to. There is no other conference that I have ever attended that is full of as much energy and positive attitude and sheer friendliness than OpenCon. The aim is to catalyze action to see Openness expand through our communities, and it does fantastically in this aim. Also, every year more and more people are aware of OpenCon, showing that moving science towards Open is a very real change that is happening now. I feel privileged to be able to attend and meet with these Open leaders to revolutionize the way we practice science.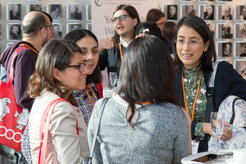 Shervin Safavi (Max Planck Institute for Biological Cybernetics)
OpenCon was a life event for me. Beyond what I learned about open science and open education, I recognized the power of collective actions by people whose fuel is pure motivation.
Toward establishing an open scholarship we are lacking many factors in our scientific community. Among them I decide to prioritize "data sharing" for various reasons. I'm still motivated and working in the direction of making data sharing "a routine" in the scientific community. In my opinion, data sharing will save time, efforts, funds and moreover it will accelerate science and medicine. Continuing the same direction form last openCon, together with Ali Ghaffaari (my friend and one of the Max Planck Open Access Ambassadors) we organize a "Do-A-Thon" at OpenCon 2017 to find out "How might we make data sharing "a routine" in the scientific community?" and make an infestiminal step toward it. We hope to continue with bigger steps and also attract more people to join our team.
Lena Lampe (Max Planck Institute for Infection Biology)
The OpenCon 2017 was my first OpenCon experience and I was impressed with the enthusiasm and drive for action at this conference. In contrast to many other conferences that I attended, OpenCon focusses on taking initiative and bringing people from different disciplines together. I felt that it provides the environment for every individual to identify its niche and contribute to the advance of open science. Together with several other people, we started to establish a toolset list to improve the open data policy at your local institute. This "Do-A-Thon" connected me to librarians, students and open access ambassadors, which I had never met otherwise. Finally, the OpenCon encouraged me to initiate an open access event at the MPIIB in spring 2018 showing that this conference is indeed a fertilizer for OA initiatives.
Hanjo Hamann (Max Planck Institute for Research on Collective Goods)
It is hard to describe the flurry of innovation that the organizers of OpenCon create each year for select participants. From the thorough process of selection (in which I had the honor to participate twice), through the thoughtful design of the conference venue to the interactive formats for maximising impact and intellectual stimulation... you just have to experience it to believe what great conferencing can be like. This meeting truly lives the "form follows function" principle and does everything to encourage open, outside-the-box thinking - with a keen eye on social responsibility. OpenCon has changed my view of both science and academic publishing. Its lively community gives young researchers a voice and a real opportunity to shape tomorrow's research practices. With an increasing number of humanities scholars in attendance, I am particularly curious how OpenCon will address under-appreciated issues in the future, such as Open book publishing, language diversity in research, and issues facing traditional SME publishers. I look forward to the solutions for these issues that OpenCon will surely help us find.
Ali Ghaffaari (Max Planck Institute for Informatics)
As my first OpenCon experience, I found it to be an step toward learning and then getting involved with advancing openness in science and education. After attending OpenCon, I did realise the power, scale, diversity, and ambition of the community making it the most inspiring conference in which I have ever been. For me, it was a great opportunity not only to learn more about open science, open data, and open access; but also to discus about the possibility of realisation of our goals during unconference and "Do-A-Thon" sessions.
One of my motivations for attending OpenCon was to discuss about "Research Reproducibility" which is a minimum necessary condition for scientific reliability of a research. In most research disciplines, a study cannot be reproduced when input data, relevant metadata, and/or source code is not available. In our "Do-A-Thon" session, we focused on "How might we make data sharing a routine" in the scientific community.
John Kim (Max Planck Institute for Biogeochemistry)
Hard to say here what others haven't already, but as a first-time OpenCon attendee, I particularly enjoyed the diversity: the people present, the topics covered, the ideas exchanged, and the disciplines represented. I found the conference did an excellent job at getting people to interact, which was the most productive part of the conference. I would definitely attend again and hope to see this movement keep growing and help come up with institutional and discipline-level changes.