eLife Annual Report 2016
A look back at eLife's achievements in 2016, notably in advocating for more open practises in sciences, building an open infrastructure for research communication and supporting early-career researchers.
The close of 2016 marks an important landmark for eLife as it transitions into the second five-year term. eLife's first five years focused on building a scientific brand associated with research excellence, transparency and publishing innovation. With the announcement in 2016 of the renewed support from eLife's founders, eLife now moves into a second phase where eLife begins to capitalise on the achievements to date to have broader influence on research communication and achieve eLife's mission to help scientists accelerate discovery.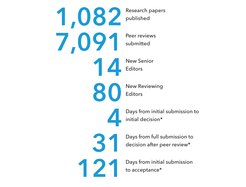 eLife is motivated by the potential to make science a more transparent and collaborative enterprise. As a multidisciplinary partnership itself, between funders, researchers, publishing teams, developers, designers, and other organisations, eLife is being as transparent and collaborative as possible to help open up science for the World.

eLife is advocating for more open practices in science. And eLife will itself continue to be as open as possible with its work so that the researchers and funders who support eLife can make their own judgments about how that support is being used for the good of science.

More information, including a financial summary, is avaiable in eLife's recent 2016 annual report.
Analysis of expenditure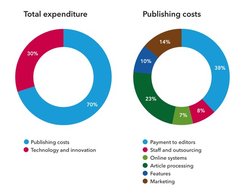 Within the publishing activity, the major spending areas were broadly the same as last year. The largest change is that the proportion of publishing costs that was spent on payments to editors increased from 33% in 2015 to 38% in 2016.
Spending on innovation and technology increased from 22% to 30% of our total costs, due to eLife's investment in the development of eLife Continuum.