eLife Annual Report 2015 published
Every year since 2012, eLife has published an annual report on activities along with the audited financial accounts. This year, the report presents a deeper view of our 2015 financials, covering publishing and  non-publishing expenses.
Since its launch in 2012, eLife has steadily increased staffing and investment in product and technology development – building on the success of the eLife journal to pursue the much broader ambitions. In the 2015 annual report, eLife has therefore, for the first time, split out the costs in terms of publishing and non-publishing activities (Technology and Innovation).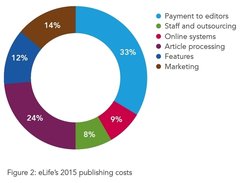 This is explained in some detail by Mark Patterson, eLife Executive Director, and Jennifer McLennan, eLife Head of External Relations in a recent blog "What it costs to publish".